⑤ Dehydration
Completely remove water from the tissue through replacment with ethanol to enable the permeation of paraffin, which is immiscible with water, into the tissue.
Method
Place tissue in 70% ethanol and then place in a shaker overnight.

Divide the tissue into large (e.g., cerebrum), medium (e.g., cerebellum), and small (e.g., brain stem, spinal cord) sizes.
Place two-ply filter paper on the bottom of a wide-mouthed container.
Place each different-sized tissue into containers filled with ethanol.
Place each tissue into a container and ensure that it is in contact with a flat surface to prevent deformation when shrinking occurs due to the dehydration process.

Place in a shaker or other suitable device.
Turn the tissue over several times a day to ensure that the tissue is dehydrated from both sides. When using 95% ethanol I for dehydration, place the tissue cut side down as this solution causes the tissue to significantly shrink.
Immerse the tissue in a series of ethanol solutions of increasing concenttation.
Dehydration timeframe
There is no strict timeframe for dehydration. However, with small tissue, dehydration takes approximately half a day, whereas, with big tissue, the tissue should be placed into the next solution after approximately one day.
Please note that shortening the dehydration time can lead to poor specimens.
Guide for dehydration time
Large (e.g., cerebrum):8–24 hours
Medium (e.g., cerebellum):4 hours
Small (e.g., brain stem, spinal cord):3 hours
Dehydration process
Solution used for dehydration
Tissue sizes
Large
Medium
Small
70% ethanol
○
○
○
80% ethanol
○
○
○
95% ethanol Ⅰ
○
○
○
95% ethanol Ⅱ
○
○
○
95% ethanol Ⅲ
○
○
○
95% ethanol Ⅳ
○
100% ethanol Ⅰ
○
○
○
100% ethanol Ⅱ
○
○
○
100% ethanol Ⅲ
○
○
○
100% ethanol Ⅳ
○
Important points concerning dehydration
Dehydration is not possible during the clearing procedure. Therefore, it is essential to remove all of the water content from the tissue during this step.
It is better to use fresh ethanol in the 100% ethanol IV bath rather than reusing the ethanol.
The tissue shrinks more as the ethanol concentration increases. There is particularly notable tissue shrinkage during the 95% ethanol I bath. Therefore, place the cut surface of the tissue in contact with the flat surface of the container to prevent tissue deformation during shrinking.
Tissue size immediately after the cutting out procedure.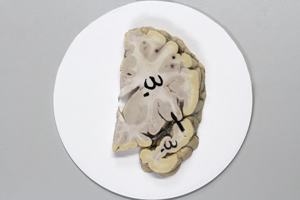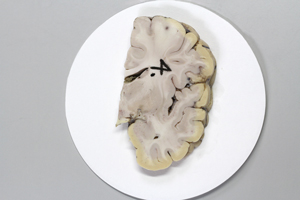 Tissue size after immersion in 100% ethanol. The tissue immersed in 100% ethanol is obviously shrunken compared with the tissue immediately after the cutting out procedure.